Bed Luxurious Classic With Pillows Free 3D Model
Sep 17, 2010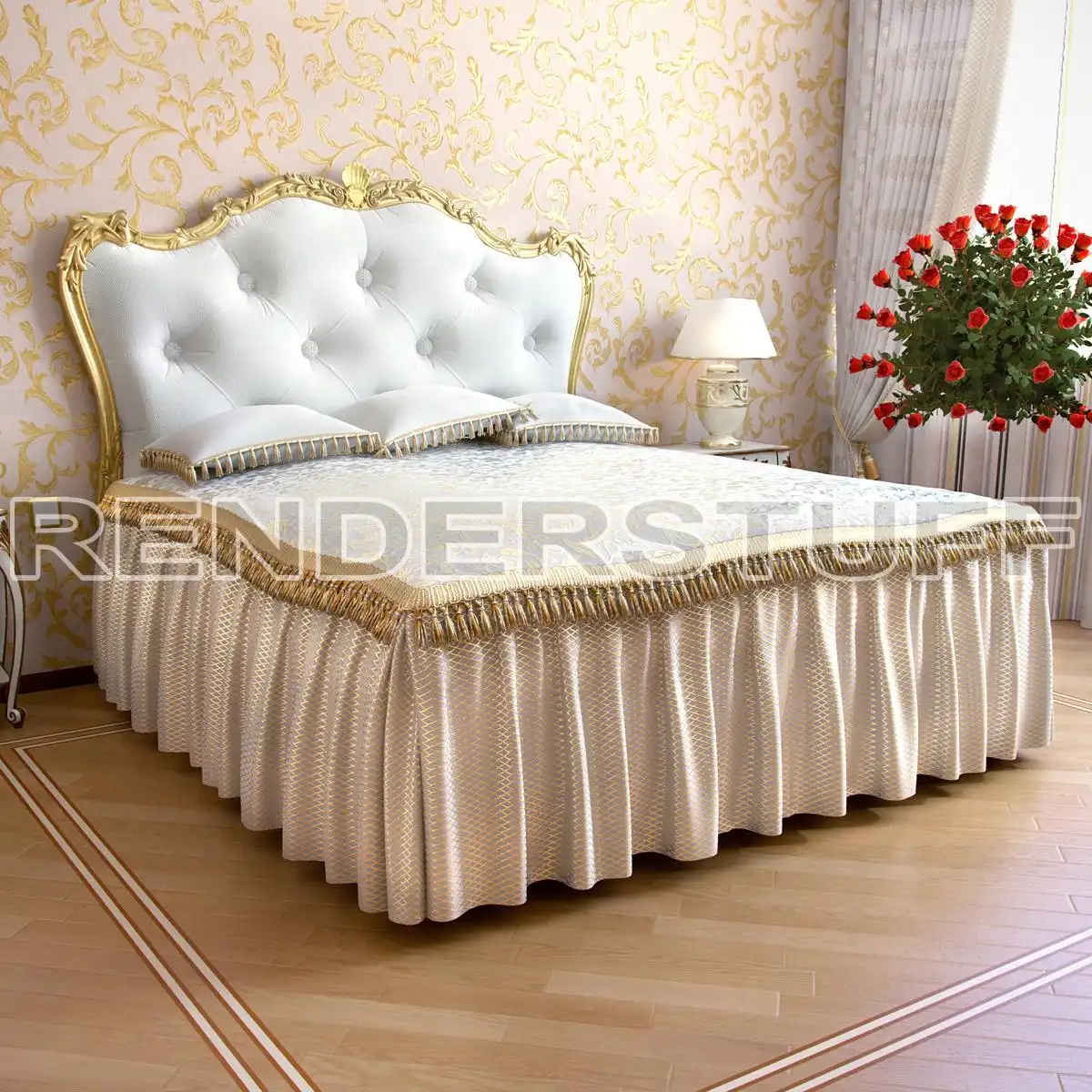 (Click on image to enlarge)
By downloading and using following assets, you accept
these terms
Luxury classic carved wood bed of a royal beauty. The head of the free 3d model's bed made in a classic style in a best traditions of the fourteenth century Italian masters. The carved frame of the head of the bed is decorated with the woodwork designs. At the head of the bed's top the golden seashell stands conspicuously. The actual frame is wooden, but covered with the tinsel gold, which gives the head's 3d material a specific shine and splendor.
3D Asset Details
The soft bed part is upholstered with a strong white fabric and tightened with a ten furry polyhedral spherical rivets. The bed stands on the four carved legs, but they almost fully covered with a satin folded skirt. The skirt's fabric is sewed with golden threads, which make the whole surface a golden netting. By the perimeter of the 3d model the skirt is gathered in the original decorative folds and this accentuates the fabric tenderness and softness. The dazzling shine of the golden skirt threads illumes warm and luxury, attracts the attention as to a jewel in a gem box. The top part of the bedspread sewed with a silk and showing through golden flowers pattern. The bedspread collar is a joining link of the skirt and the top part. The lower part of a collar is decorated with the elegant tassels. The bed 3d model includes the bed itself and the three decorative pillows also. The pillows 3d models exactly copy the bed's style, being the same white as a soft head of the bed's fabric and having the much the same in the form and material, but a little smaller in size, tassels. The free pillows 3d models are laid to a line, where the middle one has a small slope and covers with an own border the 3d model of a right pillow. The decorative tassels of a middle pillow are realistically aligned according the pillow's position. The right and left pillow 3d models are identical. Despite the high detail of an overall bed 3d model with a three pillows, it has a rationally optimized and high-poly mesh that is as much as possible lightened. Although, if one plans to use more that one copy of this 3d model in a single scene, it is most necessary the activated Display as Box option for speeding up the 3d application viewport working process.
Modeled in 3ds Max 2008. Rendered with V-Ray.