Eight Lamps Classic Chandelier Free 3D Model
Jul 8, 2011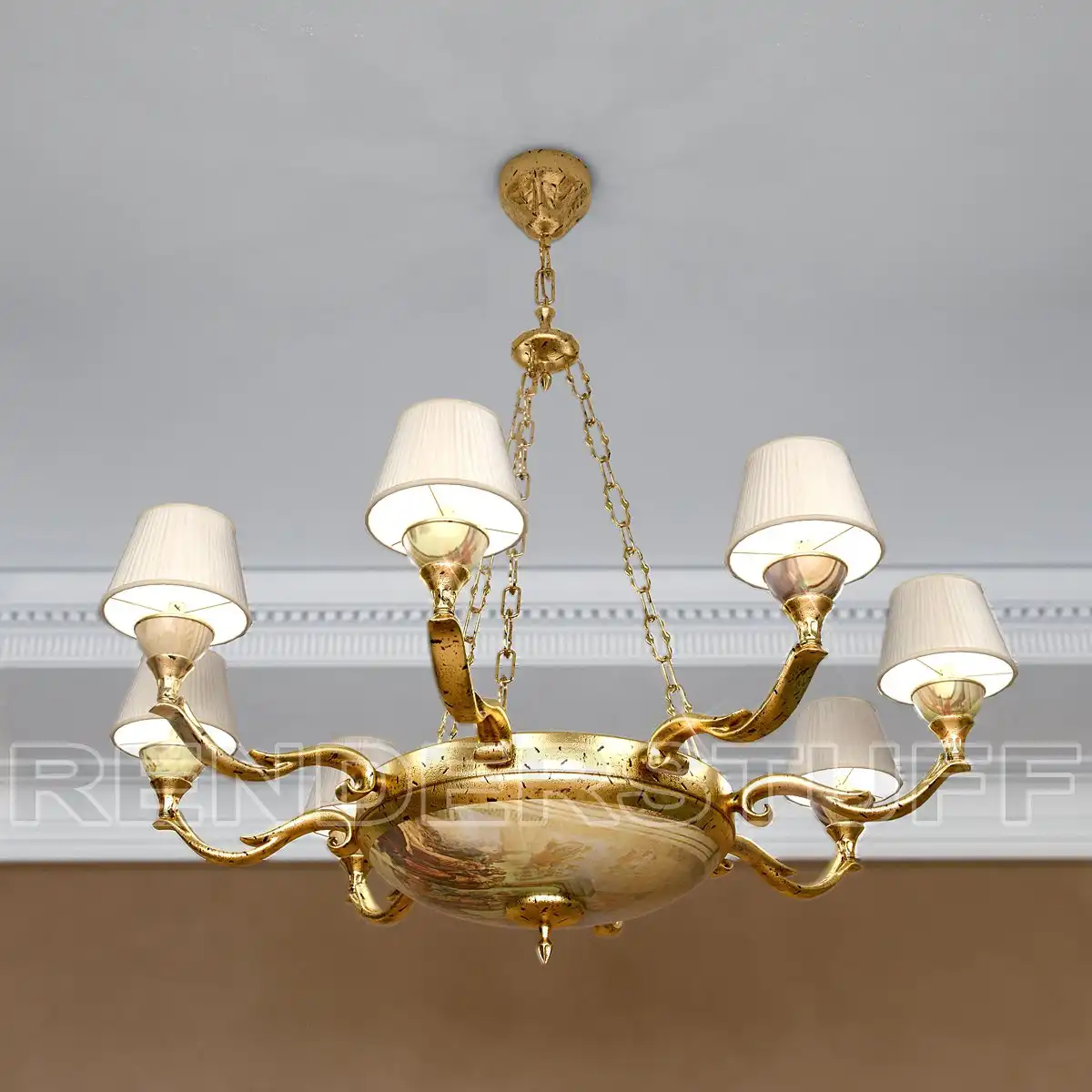 (Click on image to enlarge)
By downloading and using following assets, you accept
these terms
ZIP Archive Direct Download :
Free 3d model of the great classical eight-armed ceiling chandelier. Chandelier is a massive bowl with a chain hanger. Bowl, as the chain itself and the links of a chain hanger made of metal, coated with gold. Patined gold coating of metal parts of chandelier 3d model is very elegant and typical for this class of lights. It is, like most patined surfaces, mimics an ancient surface covered with scratches and rubs, which are actually made artificially by master-professional.
3D Asset Details
However, this is not all the features of the bowl. At its center is the ceramic disk, which you can see the pattern, resembling those that can be seen on many ancient wall tapestries. Bowl itself is a metal ring with ceramic disk inside. The strong metal arms with the typical wrought patterns come out a base. Total number of lampshade holding arms is eight. Of course, like any modern lighting, even old-fashioned classic gold chandelier, runs on electricity, and in all eight ceiling are bright energy efficient light bulbs. High power bulbs need for a reason, because the ceiling made of a light-tight shiny beige silk. Therefore, the light energy comes only from above and below the ceiling domes. The main source of lighting in the room is not direct light, which rises from below the bottom of the chandelier from the ceiling, but a indirect illumination reflected from the white ceiling above the chandelier. That is why it is important to the ceiling material being preferably white; otherwise, the room will be colored in light, different from the white. That is, it will be painted in a color of ceiling material. This is true not only of the real world, but also for computer graphics. By putting this chandelier in your 3d renderings, be careful and consider the probability of the color bleeding effect appearing. In some cases, where photorealistic precision is not important, it makes sense to remove the lampshades models from the whole chandeliers 3d model. Then, place inside them the spherical light sources, exclude these lampshades from the shading, lighting, or even from these sources illumination. Such a move would reduce the rendering time and reduce the demands on the quality of indirect lighting in a scene.
Modeled in 3ds Max 2008. Rendered with V-Ray.