Chandelier Golden Strawbs Free 3D Model
Jan 30, 2009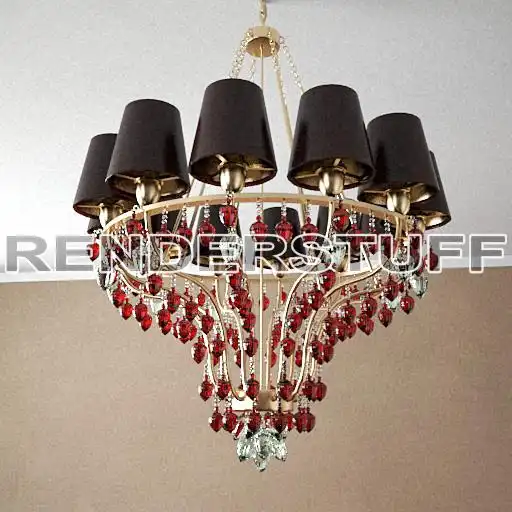 (Click on image to enlarge)
By downloading and using following assets, you accept
these terms
Suspended ceiling fixture with the twelve shades. A feature of this free chandelier 3d model is that it is a collection of elements and details inherent in the old classics, while it looks ultramodern. All twelve 3d models of plafonds are of elongated cylindrical shape with a few narrowing of diameter at the top. They are made of frosted translucent plastic dark brown. The base of 3d model of chandelier is plated metal frame, reminiscent of a luxurious chandeliers, which can be found in large concert halls and theaters.
3D Asset Details
This framework is decorated with pendants in the form of large strawberries from a glass of dark colors with red shade. Bordeaux strawberries of frame diluted with 3d models of transparent, slightly greenish, glass strawberries of the same shape, but slightly larger. At the bottom of the 3d model this pendant chandelier topped with a whole bunch of transparent glass of strawberries with a greenish tint. The whole construction hangs on the suspension of six small chain with marked adjacent to one large chain, which is attached to a ceiling hook in the ceiling of the room.
Modeled in 3ds Max 2008. Rendered with V-Ray.