Curtains With Tieback Free 3D Model
Apr 28, 2011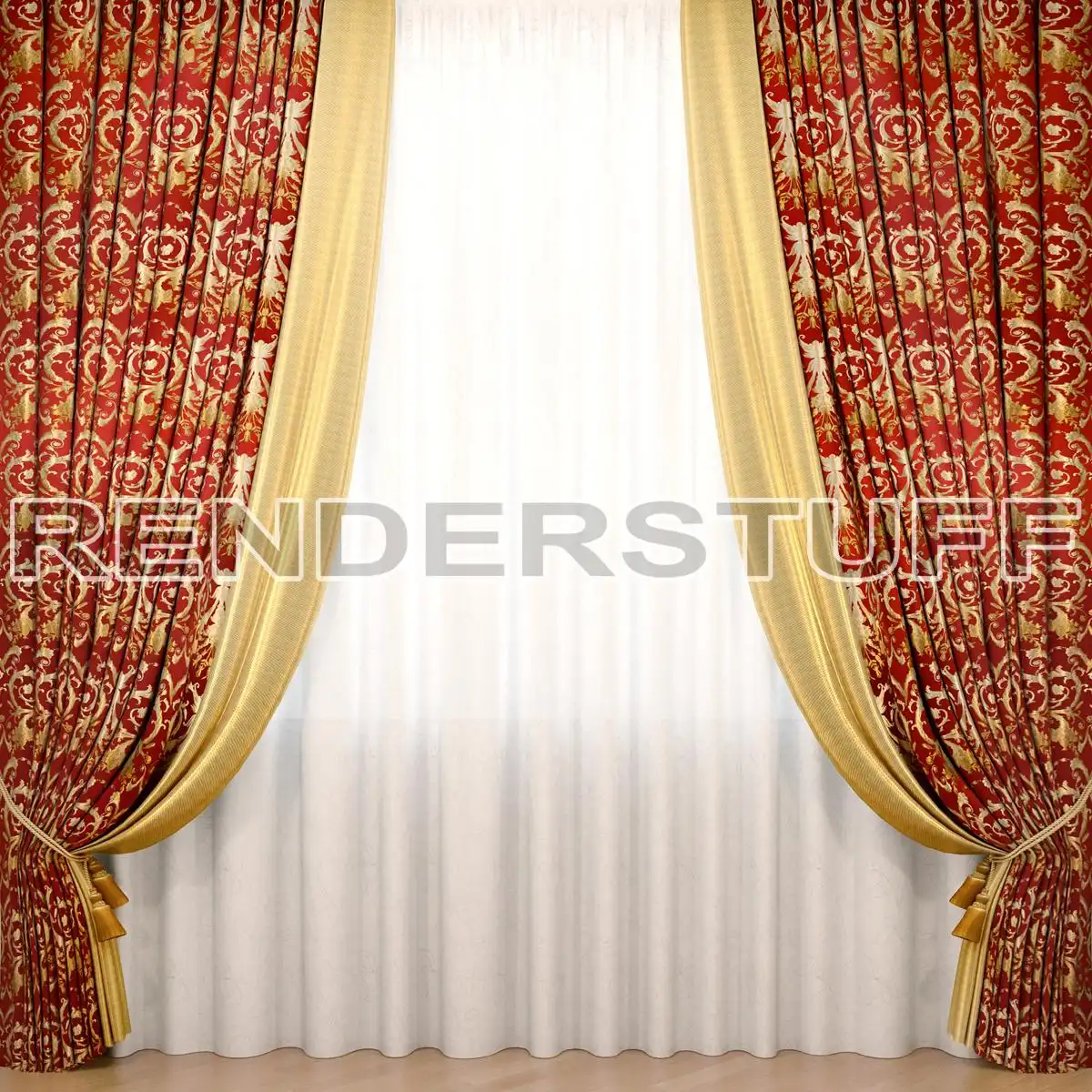 (Click on image to enlarge)
By downloading and using following assets, you accept
these terms
ZIP Archive Direct Download :
Chic opaque night window blinds. The front side of the curtain, is the vanguard material of burgundy silk embroidered with golden petals on him. The reverse side of a drapes, is made of brilliant golden fabric, with the explicit net structure. The 3d model of curtains itself collected at the lower part by tie-back in a forms of thick gold lace, which is like the aiguillette with two large soft tassels on the ends. These decorative tassels give the entire tieback a special stylishness and completeness.
3D Asset Details
Laces are attached to the wall behind the curtain with a small ring hook, mounted in a wall on the similarity of building anchor. Tieback gathers the curtain, forming its beautiful puffy folds. This assembly allows the fabric to get rid of repetitive cloth pattern, making the drawing on it more chaotic and unpredictable, and the actual blinds very much heavier. Feature of this 3d model of curtains is that it is not just a two-sided plane, wrinkled using reactor, but is literally a realistic model of curtains with front bend. That is, the lateral part of the fabric tuck so are visible both burgundy front silk and back gold satin. Such a fold can make a nice contour on the curtains, emphasizing its a gathered form. A characteristic feature of this 3d model is its fastening. This curtain is designed for mounting behind the cornice, when the mechanism of suspension is not visible and is completely hidden. But the main highlight of this 3d model is its photorealistic material of vanguard silk. It looks cool even on the of the material editor sample sphere!
If you do not know how or do not want to spend time creating complex material for any other model of curtains, you can easily use this material for your photo-realistic 3d renderings. Color of material can be easily changed in Photoshop, simply changing the color of the diffuse texture. This could save you a lot of time.
Modeled in 3ds Max 2008. Rendered with V-Ray.