Desk Big Executive Writing Free 3D Model
Oct 26, 2010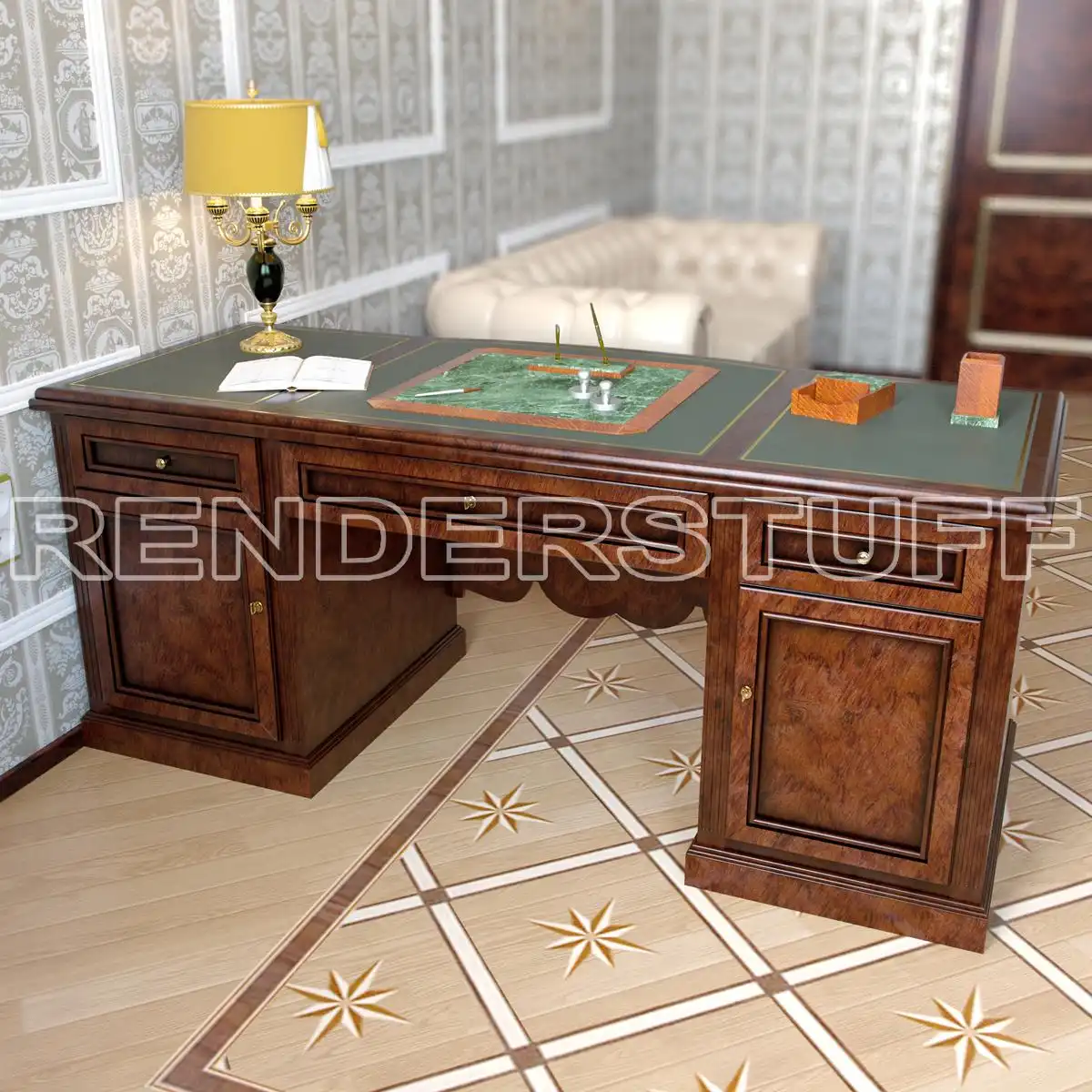 (Click on image to enlarge)
By downloading and using following assets, you accept
these terms
Massive brown wood directors table. This free 3d model will adorn any office or home cabinet, accentuating the wealth of the owner and taste of the designer-decorator. 3d model of the table stands on two massive rectangular piers, stands. Each cabinet has a door locked, and a drawer with brass round shape handles. Handles, which open doors, are keys, inserted into the lock keyholes. Both the doors and cupboards are equally stylized facades.
3D Asset Details
All the cavities and recesses of the facades have a characteristic inherent to antique painting things as dark areas on the tree. All the facades are assembled from four bars, what is clearly seen in the 3d model and gives it realism. Tables themselves are in the rectangular bases, which are not only decorative, but also give the whole structure stability. On all four sides of the 3d models pedestals, on front and rear parts the carved decorative mouldings are installed. Both drawers on the back side of the table pulled together with a decorative carved architrave, covering the legs sitting on the back side of the table and provides a much rigidity. In addition, between the piers 3d models, just below the top, there is a large rectangular drawer. Like on the pedestals doors, the key, inserted into a keyhole, perform the handles role. Availability of lockable doors and a drawer with a lock will fearlessly keep important documents and valuables, acting as a bureau and a kind of basic security safe. Pedestals base, strapped to each other with a side-bar and drawer is covered with a carved solid counter top. Feature of the table top is its division into three zones. Each zone of 3d model tabletop is decorated with a rectangular flap of green leather linings from cow hides. The leather lining itself is attached by brass glazing beads, nailed to the table surface around the perimeter spots. The purpose of these green spots are not only to beautify complement the color scheme of brown wooden desk with green matte tone, but simply to increase the convenience for touching your hard and cold-lacquered table top, and keep the hands on the soft leather surface. In addition, such a surface increases the frictional force preventing documents to slide along the tabletop surface. All wooden parts of 3d model of a desk covered with brilliant transparent protective lacquer. Manager table must not contain unnecessary stuff, because it reflects the approach of the owner to the business. In this 3d rendering the suitable things are lied on a desk such as 3d model of a written set of marble and a 3d model of a simple diary, which you also can find on the RenderStuff free 3d models library.
Modeled in 3ds Max 2008. Rendered with V-Ray.