Kitchen Og Light Brown Wood Free 3D Model
Oct 31, 2010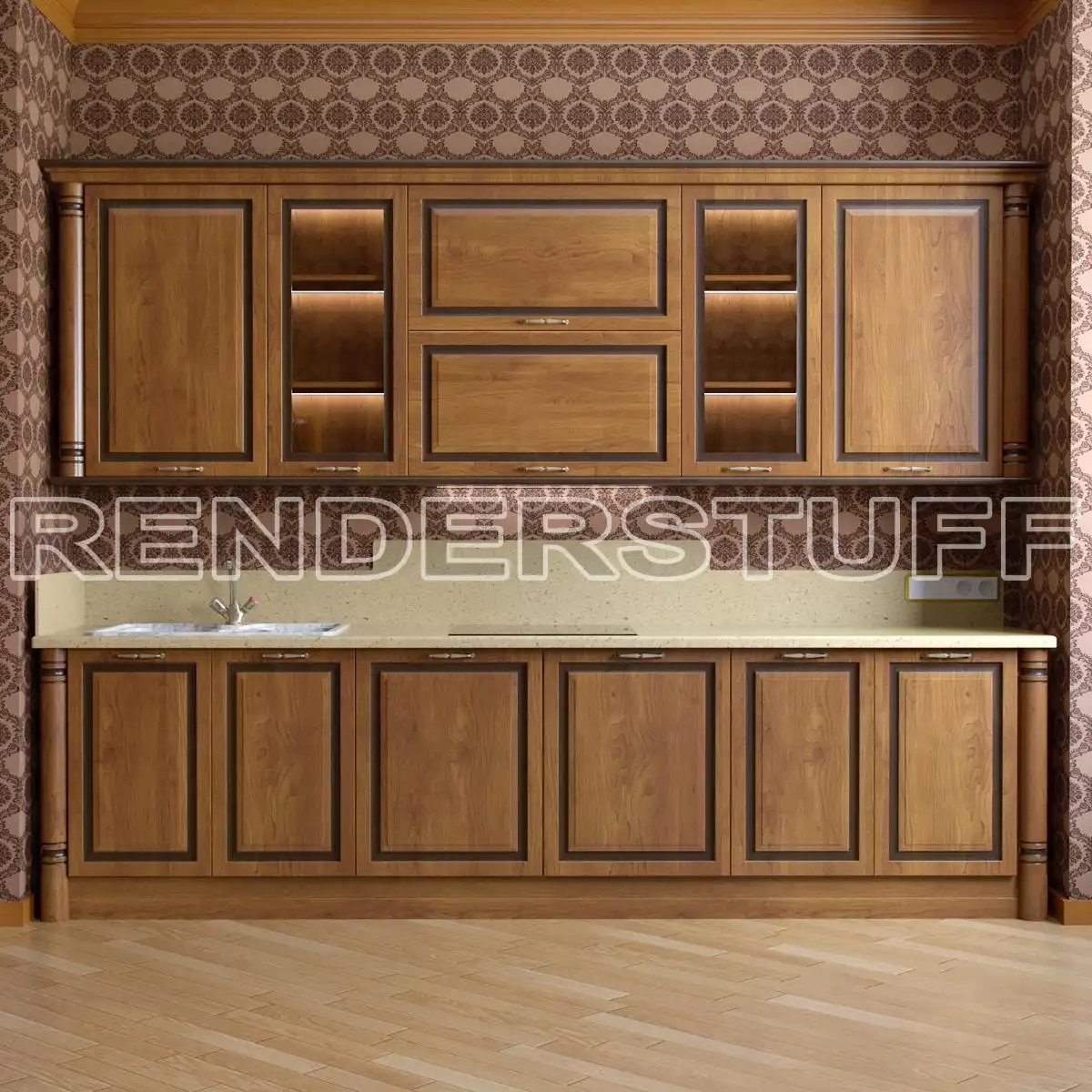 (Click on image to enlarge)
By downloading and using following assets, you accept
these terms
Compact kitchen unit, consisting of upper and lower modules. Free 3d model of the lower cooking unit consists of six sections, and in fact represents a cupboard, which can hold kitchen supplies such as napkins, pots, forks, spoons, coffee makers, coffee grinders and much more. The module is equipped with six horizontally opening doors that are both decorative kitchen facades. Feature of the facade of the 3d model is a black decorative band, which is located almost on the perimeter of each of face.
3D Asset Details
Base of the module is a continuous one fifty-five-inch plinth, made of two long horizontal bars. On each side of 3d model of the module are two round decorative balusters, visual trailing the edges throughout its construction. All doors have horizontal oblong brass handles. At the top of the lower unit kitchen countertop is made of beige marble. To the left in its 3d model is an opening for installing the kitchen sink 3d model, which should be centered on the two left side doors. As a rule, left behind one of the doors there is a auto-opening dustbin. To the right of the hole for kitchen sink, the 3d model has one rectangular hole to install 3d models of the built-in kitchen stoves, electric or gas oven and cookers. This hole is at the center of the two big door facades. Here is the place for the internal built-in dishwasher. Over the entire back wall of the kitchen 3d model and the right of the sink the marble apron is installed, it not only prevents the grease on the walls of the cooking food, but also prevents the splashing of water from the tap outside the kitchen sink. It is for this protective near-wall apron has an additional side branch in the kitchen sink. Top kitchen module consists of five main sections and is a mini-bar or sideboard for storing dishes. Left and right vertical cupboard doors are the same and serve as places of spice storage and kitchen cabinets with installed inside the dryer for dishes. Further, the upper kitchen module has two oppositely arranged compartments with glass inserts in the front, through which can be seen the yellow lights. In fact, it has built a mini-bar. His lighting is designed to give special charm to the glass or alcohol in beautiful glass bottles, which can be placed there. The center of the 3d model of the upper cooking unit has two horizontal facade, closing an embedded module in the hood. On each side of the upper module, as well as at the bottom, there are two decorative columns, balusters, visually finishing its construction. The entire structure is made of brown wood lacquered in protective slightly glossy finish.
Modeled in 3ds Max 2008. Rendered with V-Ray.