Night Stand Atlantique Free 3D Model
Jan 6, 2011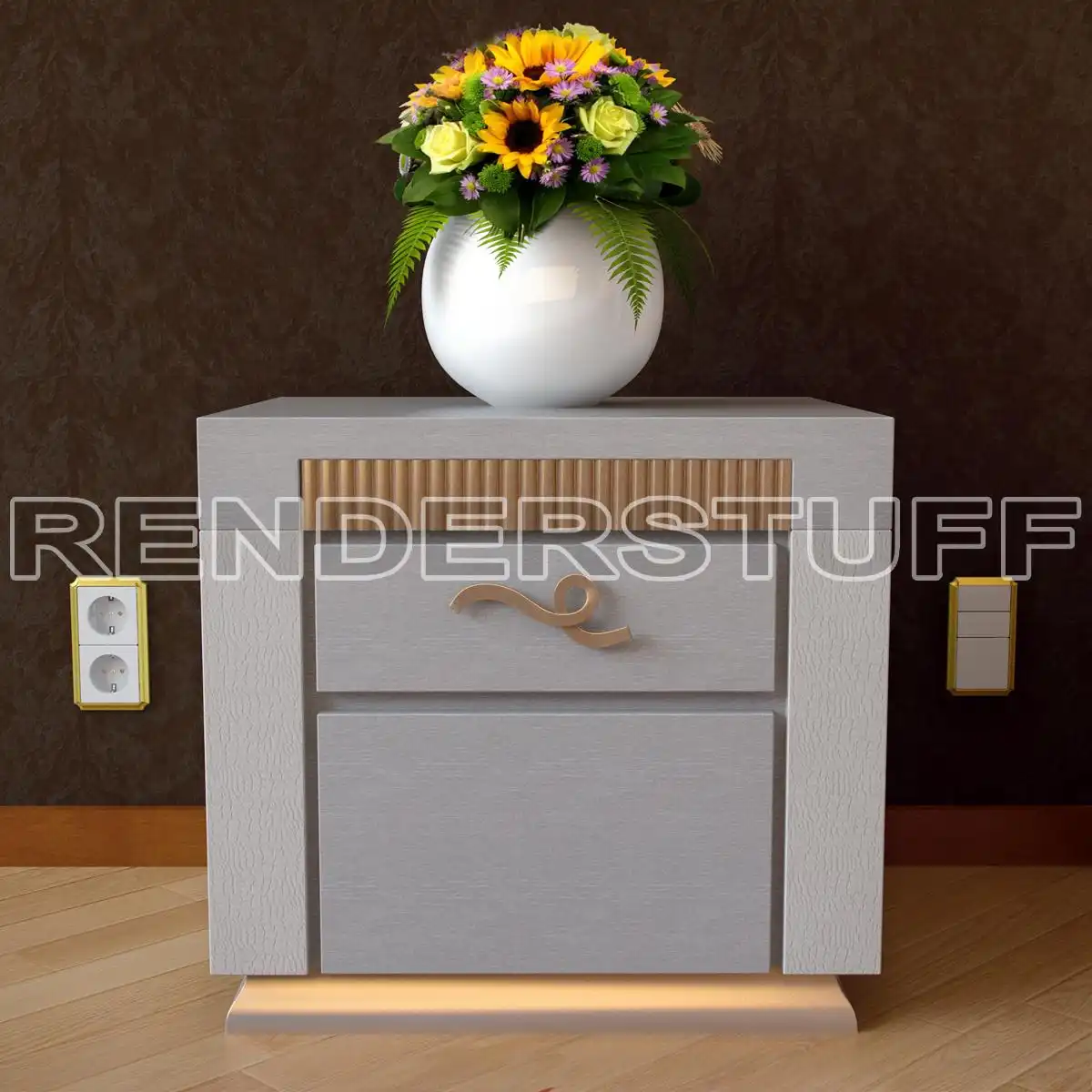 (Click on image to enlarge)
By downloading and using following assets, you accept
these terms
ZIP Archive Direct Download :
Stylish bed stand of rectangular shape, made based on the popular bedroom collections Atlantique of known Italian firm Florence Collections. Free 3d model of night table is an angular rectangular shape and is made in Art Deco style. The 3d model has a white-silver color scheme. The stand is installed on a carved base, colored in pearlescent paint with a golden tint. The actual 3d model has a parallelepiped shape. The main frame of the stand made of light wood with a shallow horizontal structure, with a glistening pearl varnish.
3D Asset Details
From the same wood, the facades also were made. Nightstand has one drawer. Its elegant decoration is the bent handle of a dark yellow brass, in art deco style. Also, the top drawer front is embossed with metal inlay from the same dark-yellow satin brass. The main highlight of this free 3d model and a real piece of furniture is a side upholstering and two vertical decorative facade linings of favorite Florence Collections designer's material, the expensive lacquered white skin, embossed like crocodile skin. A room decorated with such furniture makes it look like stylish decorated VIP hotel. Usually such things are not accustomed to seeing in the homes or apartments. This chic rather inherent in expensive yachts and luxury villas by the sea. Design of this night stand is impregnated by American art deco influence, but in its modern, more tolerant variant. Matt colors and shiny metal of the 3d model conjures pleasant memories of the warm ocean breeze and white sand. This cabinet will serve a great bedside table or a decorative stand for table lamp or vase with a gorgeous floral bouquet. The archive of free 3d model of the tables contains all the relevant textures of wood, leather and metal. 3d model has set mapping. However, the true size of the image of leather and wood textures in the material chosen by the horizontal and vertical tiling value of the texture. This may be important for non Vray users of a MAX file of this free 3d model. For example, for users of generic OBJ or FBX file formats, as well as for 3d artists, who use renderer different from V-Ray, such as mental ray. In any case, pattern of textures perfectly repeated and it should not be difficult to select the desired size of the texture, just pay attention to this feature of current 3d model.
Modeled in 3ds Max 2008. Rendered with V-Ray.