Built-In Shower Cabin w/ Glass Doors
Feb 2, 2011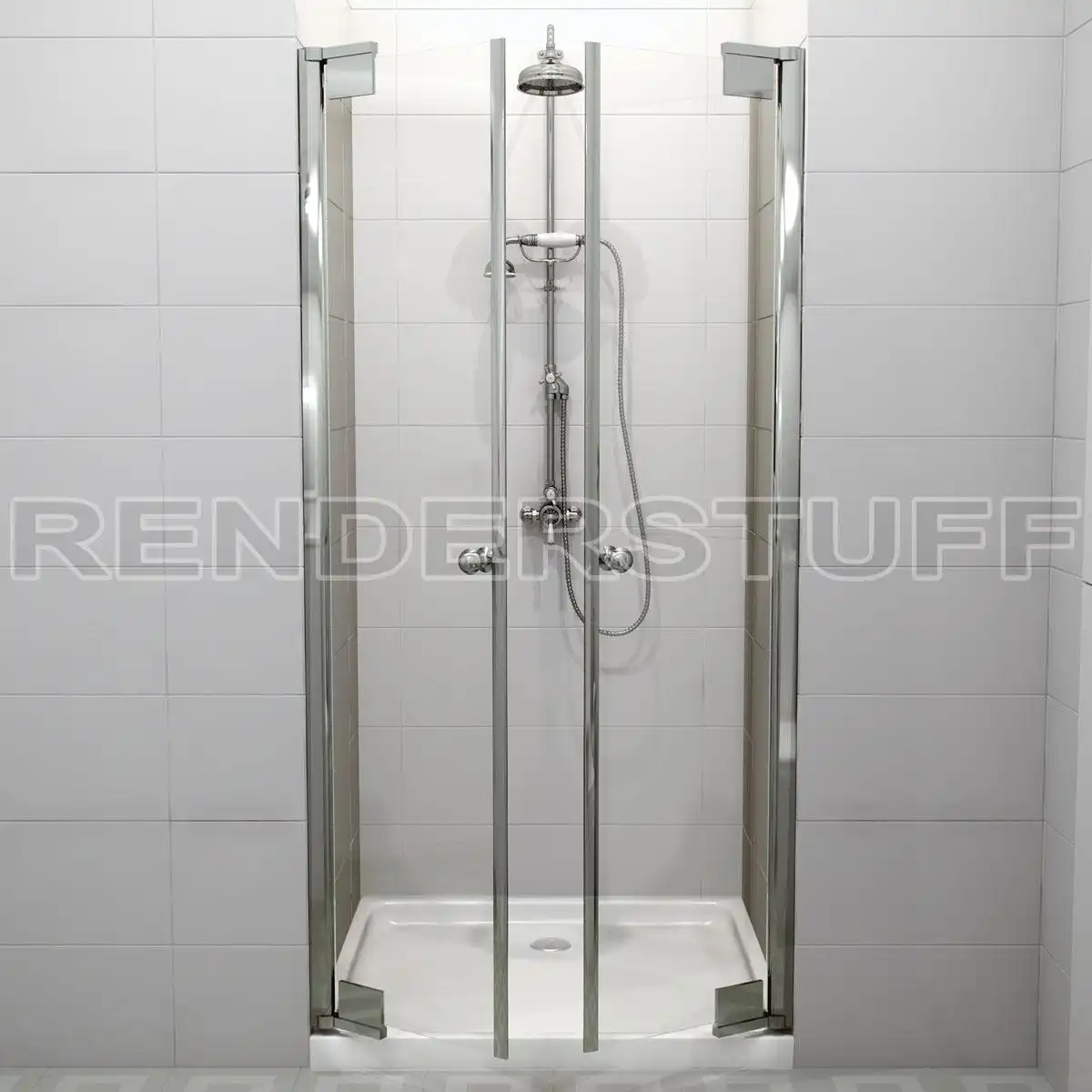 (Click on image to enlarge)
By downloading and using following assets, you accept
these terms
ZIP Archive Direct Download :
Modern shower cabin. Free 3d model designed exclusively for installation in a niche in the bathroom or shower room. The 3d model itself is the double doors to a niche that opens inward and outward by more than 90 degrees. It comes with the matching door shower tray. Door design allows installation at floor level, if the door will be used as a simple partition, but not as part of an improvised shower cabin. Each door leaf is made of large steel rack, fastened to the wall, which with the help of large flat loops hung the glass door.
3D Asset Details
Doors of shower cubicle are also called barn doors. The glass of doors is completely transparent. It is firm and secure through a special hardening firing. Both the vertical face of the glass sheets are equipped with sealing profile that removes the moisture and allows taking a shower, boldly splashing drops of water inside the cabin. Both glass doors are equipped with a handle in a circular design. All parts of this free 3d models, except the actual door glass paintings, stylized by chromed steel material. Shower pan is a solid ceramic part. Porcelain tray is much more robust than plastic tray. Tough ceramics eliminate sagging, even at very large weight of a man who takes a shower. Free 3d model of a pallet is equipped with a drain hole, covered with a special metal cap of the same steel as the 3d models of parts of doors. This stopper allows user to securely protect drains booths from penetrating into the third-party items, hair, particles of soap and so on. In addition, it completely eliminates an annoying loss of jewelry, which were not removed before taking a shower. Niche for the organization of the cubicle can be a recess in the wall, and formed through an extra wall, next to one wall of the shower room. To prevent the destruction of the walls inside the booths, they should be lined with moisture-resistant tiles. Ready-assembled cabin is an enclosed and technically equipped area for showering. Taking a shower in this cubicle turns into something more than just a bath. The ease and adaptability of its design will completely relax in the morning shower and give strength for the day. At the same time in the evening it will help to relieve tension and relax. This 3d model consists of three parts. The first part is a door frame of two uprights with a tray. The second and third parts of this 3d model are the wing doors. Centers of rotation of each set to correct points that allows you to freely open and close winds 3d models, ensuring the most advantageous their position in the desired perspective of created 3d visualization. This free 3d model is a copy of an actually existing shower cabin made in Germany.
Modeled in 3ds Max 2008. Rendered with V-Ray.