Table Console Hallway Half Round Free 3D Model
Nov 4, 2010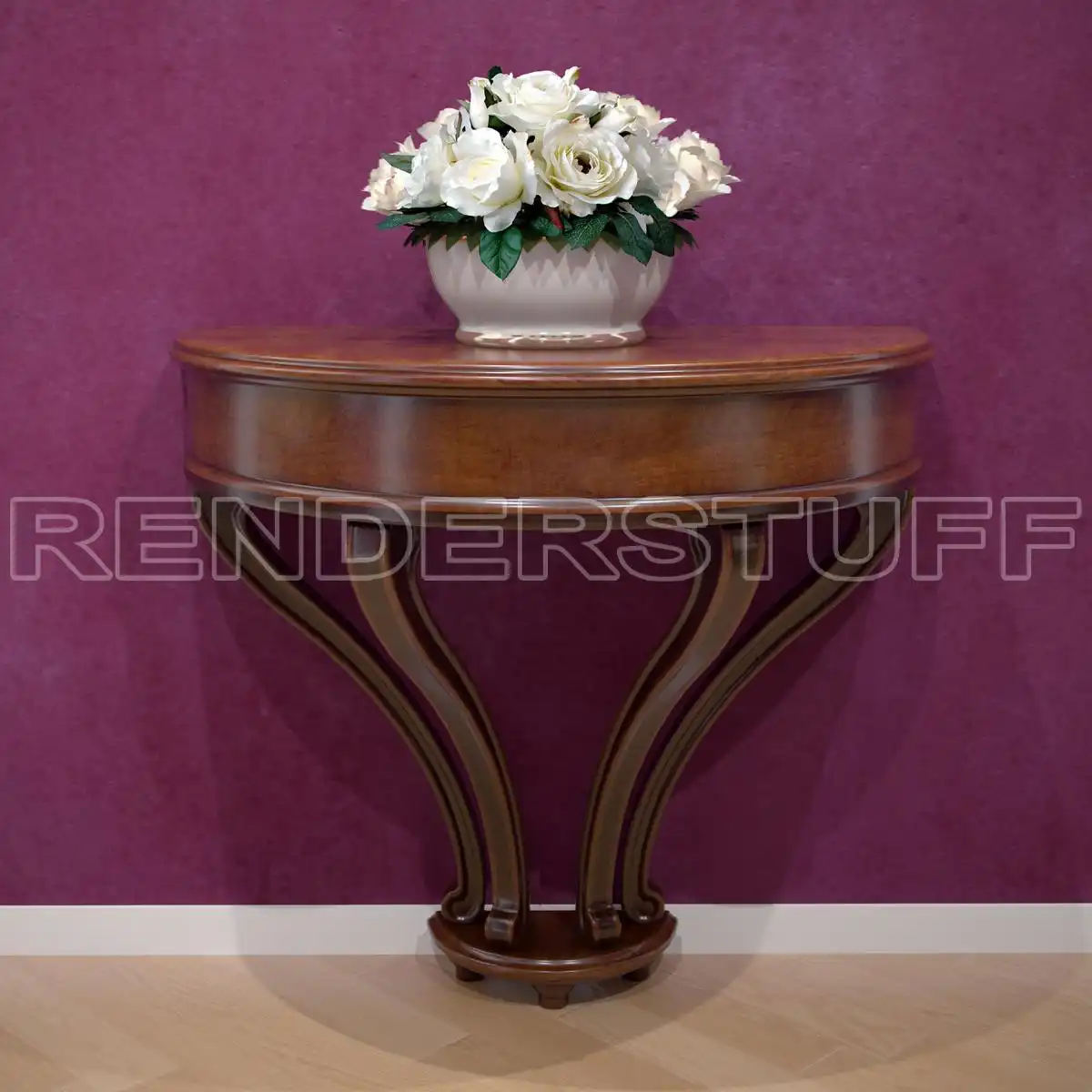 (Click on image to enlarge)
By downloading and using following assets, you accept
these terms
ZIP Archive Direct Download :
The console table of semicircular shape of a natural lacquered wood. Obviously, this free 3d model is actually a cantilever fastened to a wall, just not in a form of a decorative lug, but made as a furniture element, still keeping the same console function. Current 3d model of a console table made in a form of attached corbel, looking like table, cut in a halves and put by a sawn end against a wall. The table stands on a half-rounded base, at the bottom of which there are three little cylindrical legs.
3D Asset Details
The actual base is carved from a complete wooden piece in a shape of a semi-disk. On the half-disk's 3d model stand the four massive curved bent legs. They straightly keep the main tabletop. The 3d model has a tabletop with a shape similar to the one at the bottom, with the only difference in the surely much bigger radius. All construction made in brown old-stylized natural wood and covered with transparent protective lacquer. This furnishing 3d model is a nice table, top for corridor or hallway, on which is always handy to put the keys, gloves, or handbag for freeing the hands while taking off the footwear after entering indoors. Also, the free console table 3d model is a great decorative and functional pedestal for big beautiful flower vase or the telephone set. This 3d model of a console table nicely fits with a wall-hung mirrors, making of them both the some kind of vanity table, letting the user to brought himself up, for example, to set the hat straight before leaving. Since it is a wall-based half construction, the console table can not stand independently, that's why it must be well bind to a wall and the fastening skillfully hidden.
Modeled in 3ds Max 2008. Rendered with V-Ray.