Dining Table w/ Curved Table Top 3D Model
Nov 22, 2010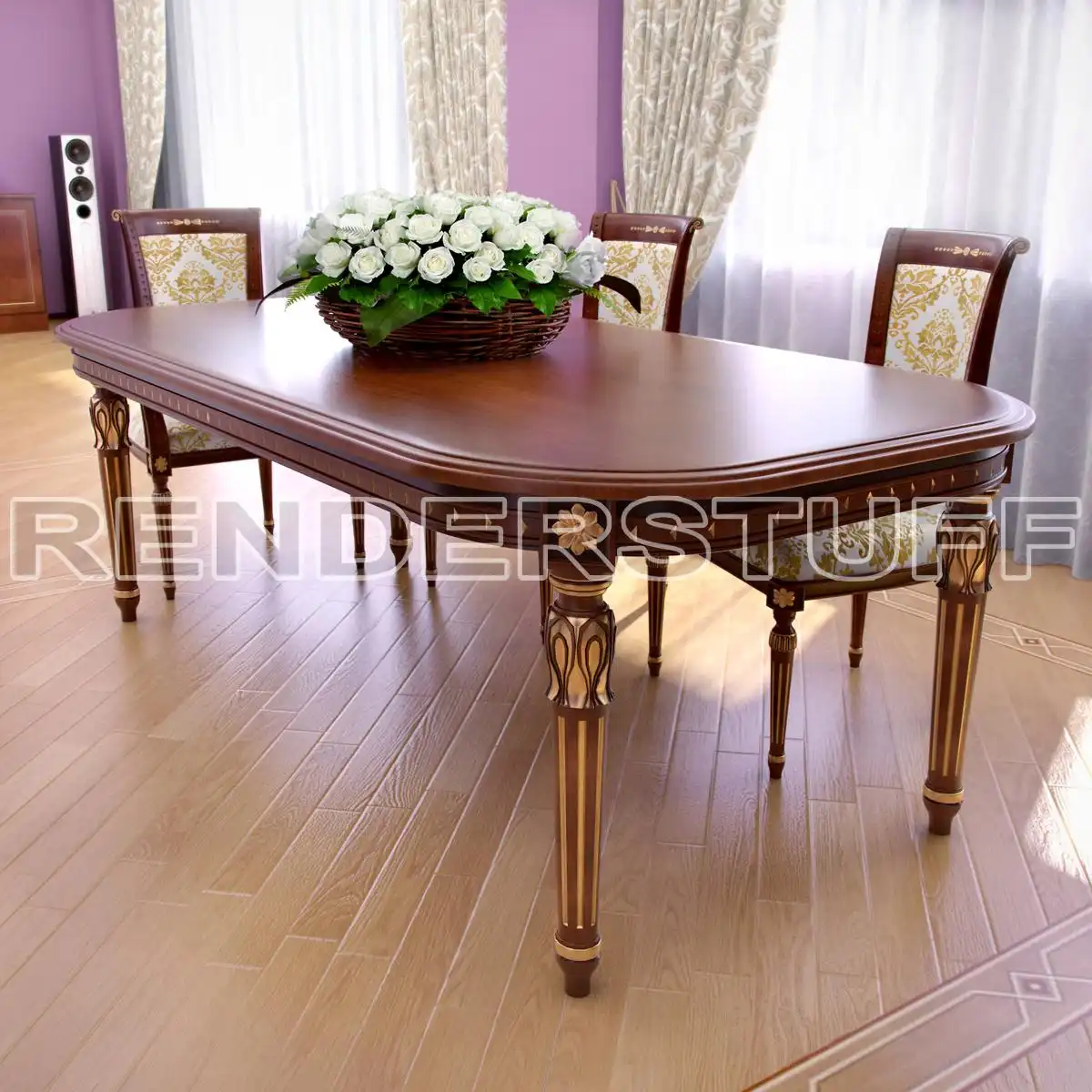 (Click on image to enlarge)
By downloading and using following assets, you accept
these terms
Large dining table of brown polished wood 3d model. This desk free 3d model has a slightly elongated shape. This length easily lets to stand up to six large classical dining chairs to it. For example, the chairs like this 3d model of wooden chairs with soft armrests. One of the main attractions of the 3d model are carved decorative legs, decorated with leaf gold. The gold is artfully glued into the recesses of the grooves on legs and they look very stylish and expensive.
3D Asset Details
The actual legs 3d models made in the form of balusters, tapering at the base and expanding closer to the tabletop, what resembles a royal mace, inlaid with jewels. The mace head of the legs 3d models smoothly flows into a rectangular timber, inside which there is eight-leaf lotus flower, sacred in Buddhism, which embodies the charm of joy and wisdom, and are the symbol of purity and chastity. Rectangular beams are in the body of the 3d model countertop, whose base is topped with carved gilt triangles pattern. Free dining table 3d model has a dense grid, mainly in the area of these triangles, which are entirely made with geometry. Deepening parts of the decorative carving of the table that are not covered with gold have a darker color than the main 3d model brown wood color. This accentuates them, giving the 3d model bigger relief and detail. Carved top base, decorated with triangles, assembled from four arcs located on each of the four legs and four straight lines. This technological feature of really existing table is clearly shown in this 3d model. The tabletop 3d model itself has rounded edges in the style of the base, and its smooth upper surface is polished to a shine. This table, complected with a few chairs, is a beautiful kitchen unit or a dining set. It can easily fit into the interior in neoclassical style, austere and imposing baroque or even a luxurious rococo. Beautiful tablecloth or a large bouquet of roses must emphasize elegance and sophistication of this dining table free 3d model.
Modeled in 3ds Max 2008. Rendered with V-Ray.