Console Unit w/ Chrome Flush Button Toilet 3D Model
Sep 26, 2010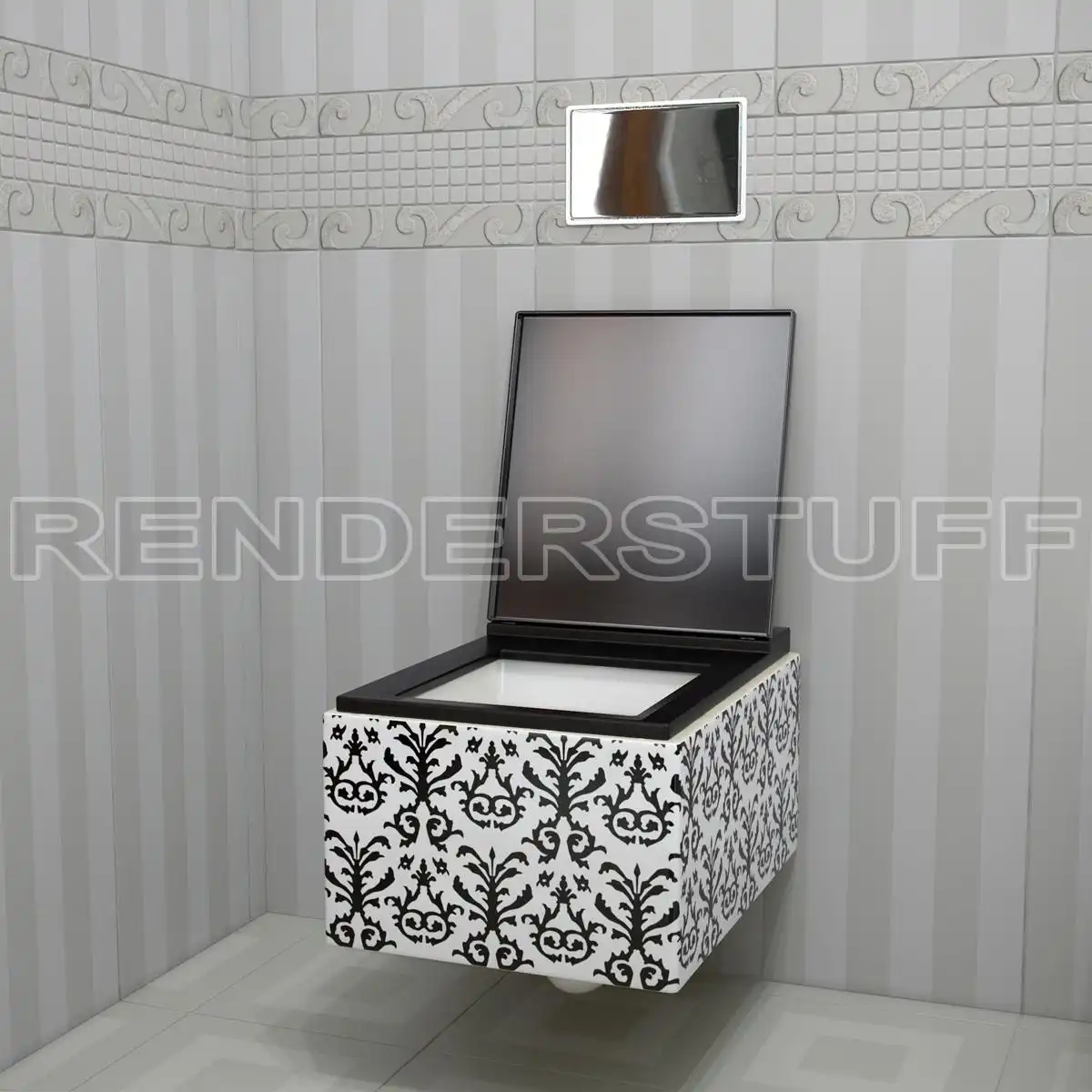 (Click on image to enlarge)
By downloading and using following assets, you accept
these terms
ZIP Archive Direct Download :
Original modern box shape WC pan. The toilet sink bowl and body made in sanitary faience. The free toilet sink 3d model does not have the support leg, but it's hanged in a special way using the brackets on the bathroom or toilet wall. All sanitary communications are covered inside the rectangular shape of the toilet sink 3d model construction. Only the main flush pipe, connected to the sewage, slightly sticks out at the bottom of the sink's body.
3D Asset Details
However, with the normal positioning, anyone coming into the bathroom simply can't see the pipe. The shape and supporting method of this toilet sink are so non-standard that it seems that the bowl is hanging in the air. Such design makes special visual lightness to this free 3d model. The four outer sides made of white ceramic body and decorated with the black flower patterns. This feature makes this 3d model universal, allowing to use it both in the modern and in the classic bathroom designs. The upper toilet sink surface has the black plastic seat of a rectangular shape, for heat insulation and comfort of use. The culmination of the toilet bowl's construction is the slip rectangular metallic cover that fully covers the top part of the toilet sink, including the seat also. In some ways, this toilet sink 3d model looks like a urinal bowl, covered wit a lid, except it has a box shape and hung considerably lower than the urinal bowls hanged usually. Water drains out jets of water under relatively high pressure. The water tank is of the hidden type, and of course is built-it the wall, what visually greatly frees the occupied bathroom space. But, for the real set this like construction toilet sink, usually the false-wall may be raised, for hiding the water container, communications and the sewage pipe, if the existing walls design do not allow to hide all mentioned equipment. The WC pan free 3d model includes the big square chromed button that activates the flush built-in system. This button also is wall built-in. Such a combination of a wall-hang toilet sink 3d model and the big chrome flush button 3d model looks very elegant. Usually, bathrooms are decorated with the wall ceramic tiles and, for the button 3d model to look suitable, it is enough to remove the few tiles. In the special cases, a little wall 3d model editing may be needed. It is the making the hollow in the wall for the free flush chrome button 3d model placing.
Modeled in 3ds Max 2008. Rendered with V-Ray.