Tv Cabinet Wooden Wall Free 3D Model
Sep 24, 2010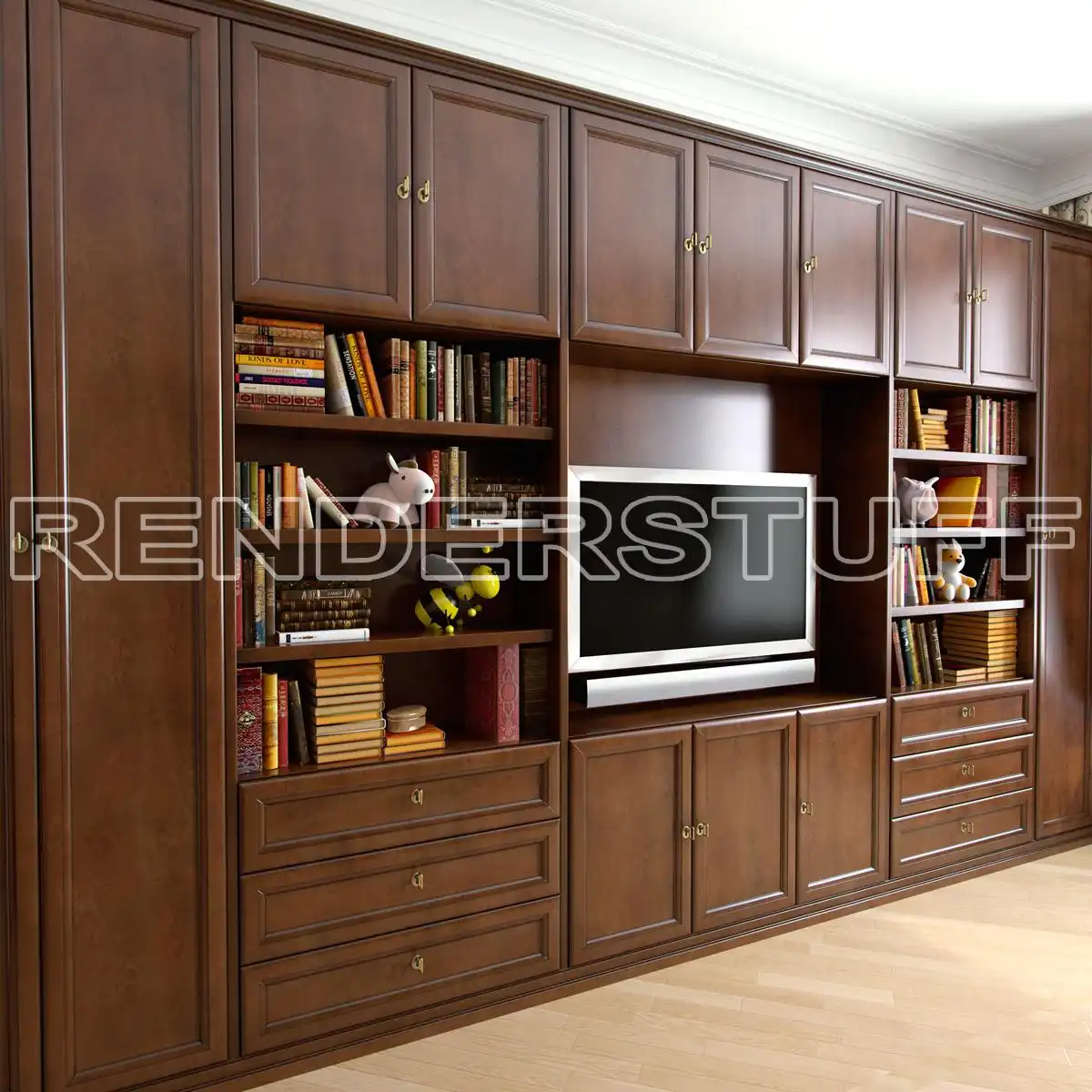 (Click on image to enlarge)
By downloading and using following assets, you accept
these terms
ZIP Archive Direct Download :
Classic all-purpose wall cabinet of a dark walnut with a TV zone. All the facades of the free wall cabinet 3d model have the same workmanship in a form of four rounded wooden bars, which border the whole rectangular cap made of the natural walnut. The each door and the each drawer are closed by the bronze key-like handle. This is not only the decorative design method, but also are the functional keys that can be removed from the keyholes to remove the access to the particular cabinet section.
3D Asset Details
Totally, the cabinet wall 3d model has five main sections. The first section is closed by the two big blind doors to the all cabinet height. It's the first wardrobe wall zone, designed for storing the clothing and bedroom linen. The second section is the book shelves combined with two multi-purpose cupboards. The lower one includes three horizontal drawers. They can serve as for the storage for the jewelry, writing materials as well as be the shelves for the underclothing. The upper cupboard of the second section is closed with the two rectangular facade doors. Usually, this cupboard is used for keeping tableware, such as dishes, tea sets, spoons, forks, crystal goblets, and others. There are bookshelves in the middle of the cabinet wall 3d model. They can place the books, the interior decorative items, statuettes, figurines, jewelry boxes, table clocks, and candlesticks. The third section includes top and bottom cupboards with three doors and opened TV area. The both cupboards 3d models are identical. The lower one serves as the TV and video equipment support, like AV-receivers, DVD players, and may be a zone for keeping home video and audio collection. The top cupboard is out of rich of children and can be a mini-bar for storing alcohol drinks. The fourth and fifth zones are symmetrical and similar to the first and the second accordingly. The wall cabinet is set over a single plinth. The overall construction is topped with a long horizontal decorative raising that completes and gives this furniture module the integrity. This free 3d model is universal and any wall cabinets may be assembled from its done sections. Suffice to remove or add the needed zones using Slice or Symmetry modifiers. This also can be simply done with the base skills of using Editable Poly tools.
Modeled in 3ds Max 2008. Rendered with V-Ray.