Vase Amphora Antique Gilded Free 3D Model
Jan 11, 2011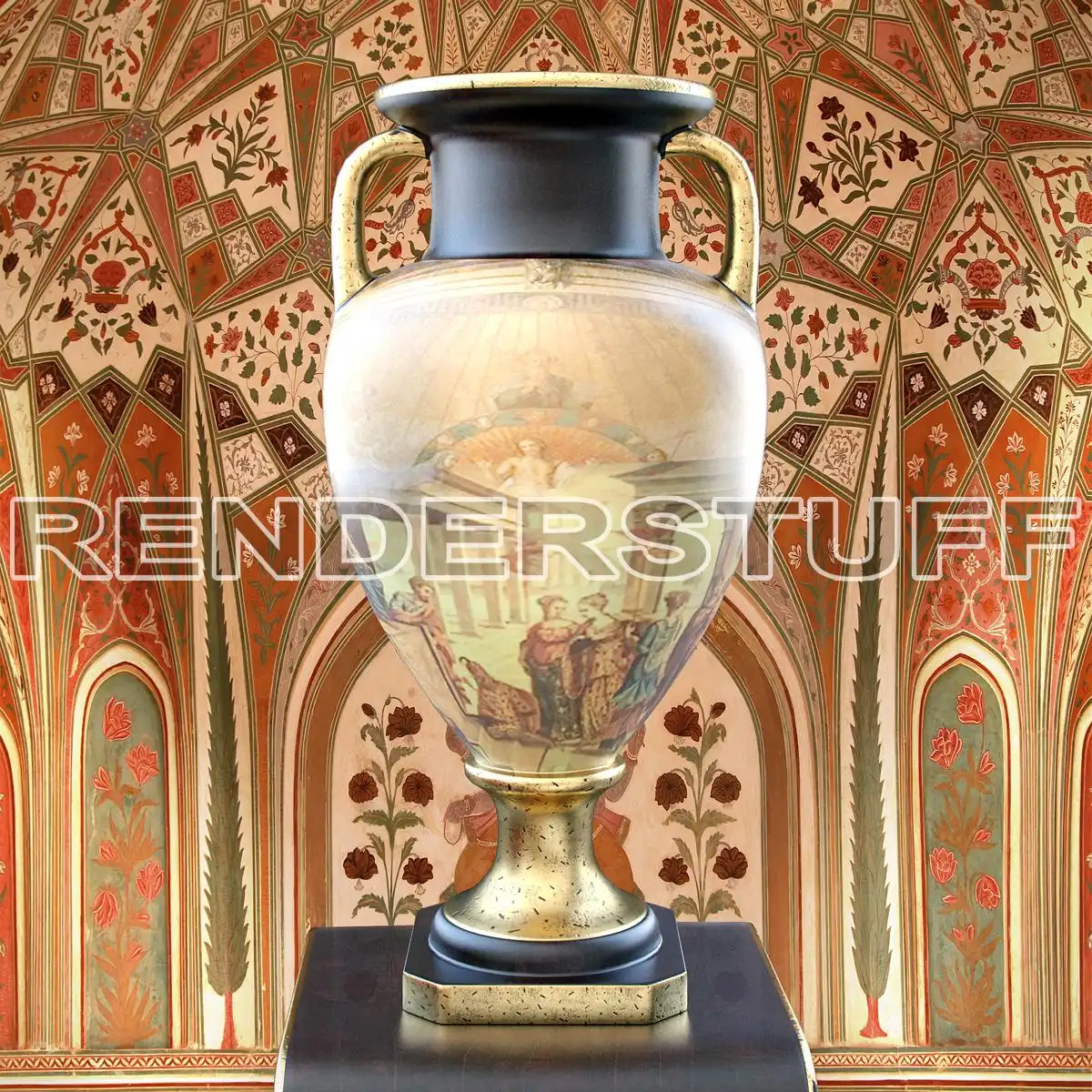 (Click on image to enlarge)
By downloading and using following assets, you accept
these terms
ZIP Archive Direct Download :
Amphora vase is a large elongated ceramic vessel with two handles, mounted on the main base. The base of this free amphora 3d model amphora is a large flat ceramic timber of rectangular shape with chopped corners. Edge of the timber is covered with gold leaf and has a beautiful pertinent patina through which the dark-brown pottery is visible, on which it is applied. Upper part of the base is dark brown with light wear, in the form of light scratches and oblong spots of lighter brown.
3D Asset Details
Flat surface of the base, gradually coming round to the leg of an amphora, merged with the base in single shape. Edge of the circular leg 3d model is of the same brown color. It, in turn, comes in a gold cone, resembling a rest for eggs, which established itself ovoid amphora jar with a sharp conical bottom. Vessel itself has an ellipsoid shape, slightly elongated and flattened from top to bottom. Besides the beautiful elegant shape of the amphora, a highlight of this free 3d model is a beautiful picture of biblical times. It recalls the images of that time, skillfully hand-made woven on the expensive tapestries, which can be found in the entourage of rich historical museums and art exhibitions. It depicts the nobility in expensive clothes under the dome of an ancient temple. Top flattened part of the amphora vase 3d model ends in a horn-shaped neck of brown color, has a ring of gilded edges. Like any large jar or pitcher, 3d model of an amphora has two horizontal gold-plated handles around. The main purpose of amphorae in the ancient times was keeping fragrant olive oil or spirits of wine, pouring rivers on the celebrations and feasts. Even then, the amphora was not only practical pitcher and the subject of everyday life, but also a work of art. Beautiful gilt amphora could be used as a receptacle for ashes, water containers for washing guests, or ballot container. Amphora has not lost to this day its decorative appeal; on the contrary, it has acquired a status of classical antiques of biblical times. Afford to own this amphora or a vase found in archaeological excavations and restored with modern masters of the restoration can only true aristocrat and art connoisseur. This amphora just mingles with ancient paintings in gold frames, adding to them, and even totally eclipsing, turning over all the attention and looks of astonished guests on itself. This 3d model of an amphora perfectly harmonizes with Golden pillar-stand 3d model. Installed in this column, Amphora will take honor place in any area of the room, emphasizing elegance and taste of its designers.
Modeled in 3ds Max 2008. Rendered with V-Ray.