Washbasin Console With Golden Frame Free 3D Model
Mar 7, 2011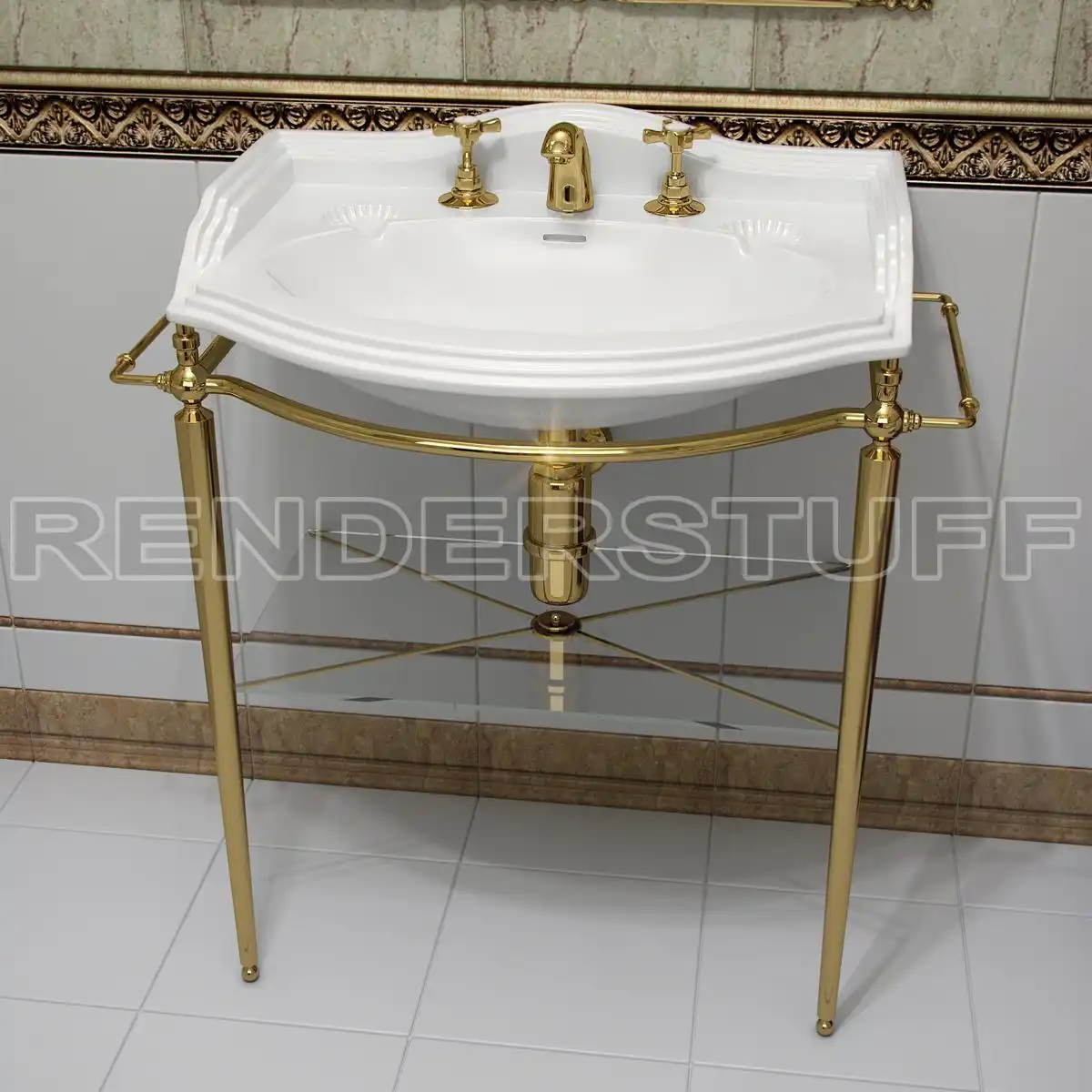 (Click on image to enlarge)
By downloading and using following assets, you accept
these terms
ZIP Archive Direct Download :
Beautiful classic sink for the bathroom. Made in the form of a small console table. The washbasin is ceramic itself. Besides the beauty and elegance of its basic form, it has extra stylishness because of built-in soap dishes. They are made in the form of corrugated sea shells. These shells fully made with geometry. Despite the complexity of their shape, mesh of 3d model of a console sink has the correct topology and perfect the optimized structure.
3D Asset Details
Curved grid shells smoothly go into the plane of the sink's body, without any drawbacks of smoothing. Actual ceramic wash basin has a special apron, adjacent to the wall, to prevent the ingress of moisture. Free 3d model is equipped with a sink plumbing accessories that come with the sink. This is a two valves and water tap. One hot valve and one cold, respectively. In the center between them is curved non-turning tap water. The deepening of the drainage basin is equipped with a special part of the metal cap-fuse, to prevent clogging of the siphon. Below the wash-basin is located the 3d model of fan pipe and siphon. Real washbasin looks like a console table. More precisely, it is built into the console metal framed stand that has two front legs and back fastened to the wall brackets. His legs are long, slender balusters, attached to the frame, the rim that encircles the basin below. At the bottom of both legs is a small ball, which comes into contact with the floor. Side of the rim are rung for drying towels. They are arranged symmetrically on the right and left sides. This allows drying several towels on them. Down below is a free 3d model basin, going from the wall to the legs. At the crossbar, a rectangular glass sheet is set. Thus creates a beautiful transparent shelf for toiletries. Totally, this 3d model has three materials. They are gold-plated steel, ceramics and transparent tempered glass. Note the non-MAX model versions are extra-optimized. This 3d model is copy of an existing real console washstand.
Modeled in 3ds Max 2008. Rendered with V-Ray.