Wooden Gilded TV Stand Free 3D Model
May 30, 2011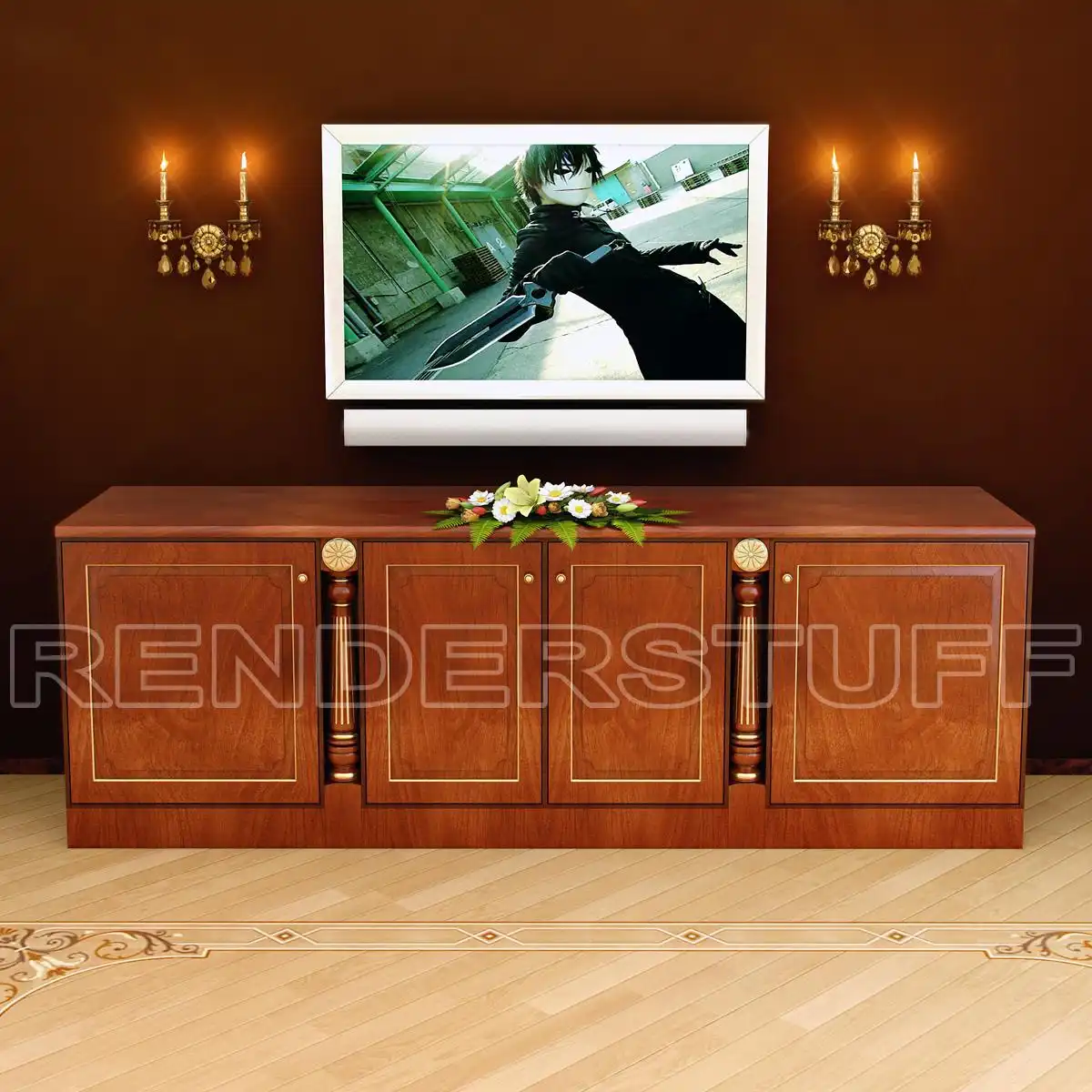 (Click on image to enlarge)
By downloading and using following assets, you accept
these terms
ZIP Archive Direct Download :
Free 3d model of the wooden TV stand. TV stand is essentially just a large three-section cupboard for equipment. The main purpose of such furniture is to store home videos and audio materials. The shelves inside the cozy stand can hold hundreds of CD and DVD discs. Feature of large TV stand is that they can fit not only the media but also playback and reproducing sound devices such as receiver 3d model or DVD player 3d model. They will be safely hidden in cabinets and will not break the idyll of the classical interior 3d rendering by their excessive technical appearance.
3D Asset Details
This 3d model is completely symmetric in the horizontal plane. Left and right of the stand there are large single doors, covering the shelves inside. In the center are the split doors, which meant to be open outward, and the side doors has the spherical knob in a form of golden ball in the upper corners. The doors themselves are also facades with decorative punching and small patina. The highlights of this free stand 3d model for TVs are decorative balusters, built into the body of table. They are located between the central and side sections and they make this element of the interior truly a classic. The leaf gold covering emphasizes and complements the classics of the 3d model, which cover the facades, especially they decorate the balusters' ornaments. Top of each of them is a large golden flower. In addition to simple storage of discs, inside cabinets, the tabletop of a TV stand will provide an excellent support for a large plasma 3d TV. Nightstand is made of dark brown with reddish wood, covered with brilliant transparent protective lacquer.
Modeled in 3ds Max 2008. Rendered with V-Ray.