2020 Update (read first)
---
This mini-article was originally written in 2009. It relies on ColorCorrect plugin for 3ds Max. In 2020, ColorCorrect is no longer the exclusive solution to the problem of color correction. Please, see the 2020 Update (read first) of the "ColorCorrect Texture Plugin for 3ds Max" article for more information.
In addition, it is very important to note that in newer versions of V-Ray, the VRaySky has a new parameter called the Sun filter color. This actually allows you to filter the VRaySky hue by the color specified in the field. However, applying a color filter over existing VRaySky color, especially since you usually only need to reduce that color saturation, is pretty counterintuitive. Thus, wrapping a VRaySky with a suitable color-correction map are still the better approach.
Preface
While working with V-ray renderer it's often arises the need of using a V-Ray specific map - VRaySky to illuminate 3d scenes. The scene illumination with VRaySun + VRaySky is actually the most common approach to V-Ray users. In most cases a standard settings of the map is quite sufficient. But sometimes the color saturation is too high. It gives a strong yellow or blue light. Unfortunately, a combination of ozone and turbidity parameters only, does not always provide the desired result. But as a way out of this situation is the ColorCorrect using. In practice, adjusting the VRaySky map Saturation value with ColorCorrect is the most flexible way to manage VRaySky illumination.
Problem
The VRaySky map, while placed in the environment slot, will generate a blue ambient lighting, trying to mimic the illumination from a real sky dome. This is a great tool overall, but it has one downside. This tool seems to force the user to use their vision of "physical correctness". According to the principle, "if the sky is deep blue, it should probably generate the same oversaturated blue ambient light." But it's hard to agree with. Especially looking out the window. In the real world, the sky is just a big mass of transparent air. Only because of its large mass you see the sky as blue one. You can see this effect on flat piece of glass. If you look at its flat surface, it will be transparent, if you look at its edge, it will look green. But even if powerful direct light (sunlight) is passed through very thick glass, it will not come out of the glass as a saturated green light, as if it had been filtered by a green filter. In fact, the light that pass through a thick glass, is expected to be a little greenish, but it will definitely will not be oversaturated green. The same we have with the super bright sun rays passed through the layers of air. Little bit of a blue, but mostly a white, because sunlight rays is the whole spectrum of light with a slight predominance of yellow. Plus, the human eye (brain) adapts to the illumination of environment and makes "color corrections" by itself, so you mostly perceive "usually white objects" (white piece of paper for example), as white, even if the ambient light has a color shade different from white.
The same we expect form photorealistic renders. The white piece of paper, must be the white on a render, not a blue one. The default "V-Ray style" approach is to oversaturate the scene with blue lighting from VRaySky first, and then "to do something later" with it. In particular, a typical "fix" is to use white balance on the camera, while applying unwanted color correction to all scene materials, even where you don't want to.
Solution
In practice, it is much more correct to just create the right lighting from the beginning, so that you do not have to fix it later.
The ColorCorrect is a great way out of this situation. It's enough to wrap VRaySky with ColorCorrect to control a final color. Just insert a VRaySky map into Source slot of ColorCorrect and then adjust the Saturation [%] value until the annoying blue color bleeding is gone.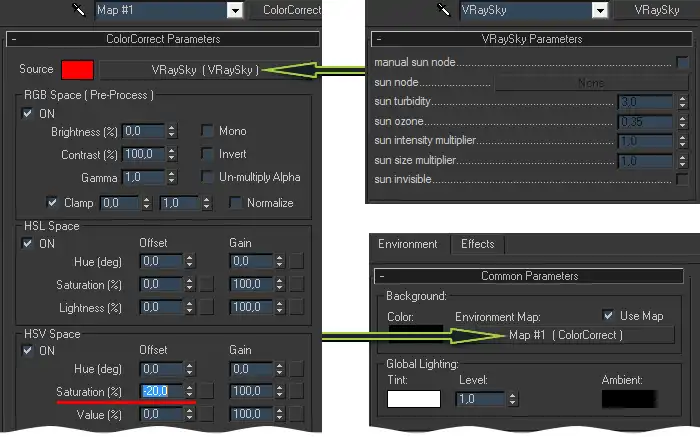 And that's all folks!
Comments